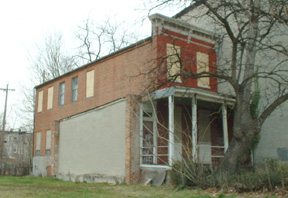 Today I was in court for a receiver action; or as the city calls it a "Show Cause Hearing". I have to show cause why a receiver (see What is a Receiver?)  should NOT be appointed to auction off my property.
I had a tax lien on 526 N Arlington Ave 21223. The city took the owner to court. Well the last court date was postponed because they did not get proper service on the owner. That was a good thing. In the mean time I received a court decree for my tax lien. So today I was in court as the new owner.
So I spent most of the day yesterday well into the evening preparing for court. I had pictures with captions of properties I have renovated. I also had printed out pictures and permit lists of houses I have sold to other investors. I had 27 pages of well organized materials to show the judge.
I never showed it to the judge. When the City attorney saw what I had, he realized I was a responsible owner. We mutually agreed to delay the case for an month and a half to give me time to take some action.
The lesson here is; being prepared is invaluable. Based on what I saw in the other cases, I was the most prepared owner.   Probably the ONLY one with pictures or other documentation. Most including me were not represented by lawyers. A few attorneys showed up without their client. The judge did not like that. If you get called into court I suggest you come prepared with more than just a slick excuse. The judge has heard them all.
Now that I know I get to keep it, I want to sell it.  Does anyone want to buy a great rental?  Leave a comment or click the button on the upper right to sign up for my buyers list.
Happy investing and stay out of trouble, 
Ned