The Baltimore City Tax Sale was held May 18, 2009.  A total of 8569 liens were sold with a total face value of $20.8million. There were 172 bidders. 91 bidders had winning bids.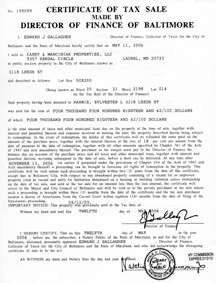 There were a total of 33,426 bids meaning about four times as many bids a liens awarded.
If you compare that to last year they sold 9026 liens for a face value of about $22.8 Million. Last year had 177 bidders of which 98 had winning bids.
The top bidders was #83 ETS Maryland LLC who spent $12 Million the day of the sale and was awarded 3670 liens. Runner up was bidder #87 Two Thousand Nine LLC at $9.3 million and was awarded 1501 liens.  The top 10 bidders spent $33.6 million and won 7749 out of the 8569 liens sold that day.
The average effective return was 10.46%. The lowest return I saw was bidder 157. He's earning a whopping 2.7% on the $37,000 he spent.
So what were Ned's results?
My IRA is earning 17.37% on my winnings ! (more on investing with your IRA in a future post). I won 38 liens this year. Not quite as much as last year but I had less money to invest this year, so I'm happy.
I won 17% of the liens I bid on this year compared to 20% of the liens I bid on in 2008. This is a good thing. My bidding was more intelligent, lower bids but higher quality properties and higher interest rate returns.
Thank you!
A big thank you goes out the the interns that helped me this year. I hope those that inspected properties or those that just came to the intro meetings learned something that will help them in their investing.
What do the results mean to the small investor?
It was another year of the big guys dominating the auction. You've probably heard of the 80/20 rule, well in the Maryland Tax sale it is 90/10. The 90% of us small guys are fighting for 10% of the liens. While statistically the odds of winning a lien were 1 in 4 but I wouldn't count on that kind of result unless you are willing to accept a very low return.
The results confirm what I have said before, this is not as easy as the late night infomercials make it sound, however if you are prepared you can do a decent job in this game even at a modest level.
Happy investing,
Ned