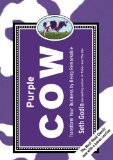 Seth Godin is a great marketer.  His book the Purple Cow is a fun read.  Hey who says business books have to be dry and boring.  Seth's books certainly aren't.  It is only 137 pages and a fast read.   But don't let its small size fool you.  It has a powerful message.
A Purple Cow Is Remarkable
The concept of the book is simple.  If you have seen one cow you have seen them all.  But if you saw a purple cow, well that would be remarkable!  You'd notice a purple cow.  You'd tell your friends about a purple cow.  That is why I Am telling you about the book Purple Cow.  When it comes to marketing books this one is – remarkable.
Seth Godin will guide you through the changes that are happening in the marketplace.  He discusses why the old paradigm of marketing doesn't work any more.  Seth also describes how the products need to change to be successful today.
Otaku – What you want in your customers
I learned a new work from this book, Otaku.
"Otaku describes something that's more than a hobby but a little less than an obsession. Otaku is the overwhelming desire that gets someone to drive across town to try the new ramen-noodle shop that a great review"
This is what you want in your customers.  This is why your products have to be remarkable.
Seth Godin Is Fun
One quote from the book I love
"Does the US Postal Service hire Annoying people or just train them that way?"
It is a great example of his irreverence and his unique way of looking at things.  Sadly the US Postal Service never quite looked at their own business that way.
Now I haven' given anything away that you couldn't read on the flap of  the cover.  Seth ads value by the humor and the case studies.  So buy this book.  You'll be glad you did.  I "steak" my reputation on it.  I wouldn't "steer" wrong.  And that's no bull!  (Sorry, I've got to milk it for all it's worth)
Buy Purple Cow from Amazon here at a great price.
Happy Reading,
Ned