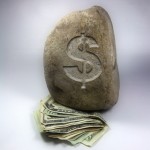 If you are new to real estate investing you may have heard the term "Hard Money".  Just what exactly is hard money?  It is a short term loan with high interest designed for investors who renovate properties. These loans do not come from banks or traditional lenders. They are offered by private lenders in the business of making loans to real estate investors.
You can remember the term by thinking it's hard to pay back because of the high interest.  However I was at a foreclosure auction of a well know Baltimore hard money lender and he said it's call hard money because  "It is hard to collect."
What Are the Terms for Hard Money Loans
While traditional financing is made primarily based on credit scores and the borrowers ability to pay, hard money is usually based on the value of the property.  Hard money lenders will loan for both acquisition and repairs up to approximately 60- 65% of the after repair value of the property.  A typical hard money loan would pay for the property at closing and pay for the repairs on a draw schedule.  In other words repair money would be reimbursed as the repairs are completed.
Hard money lenders typically charge 12-15% interest and 3 to 5 points.  A point is  1% of the loan.  So for example if you were borrowing $100,000 and were charged 3 points,  you would have to pay $3,000 up front.
Why Should I pay Loan Shark Rates?
You might ask "Why would I pay that much in interest when rates are so low now?"
Loans are hard to get now.  You may not even be able to get a loan from traditional lenders like banks.
Even in a strong lending market it is harder to find construction loans.  Most mortgage lenders only want to lend on livable properties in good condition.  We usually need loans on properties needing work as well as the money to fund the renovations.
Traditional lenders take a long time to approve loans and can be unpredictable.  Hard money loans are often approved in a few days.  Sometimes the ability to act fast will get you better deals.
If you have poor credit, that may not be as important to a hard money lender.  It will kill you in the eyes of a traditional lender.
It is often cheaper than a "partner".  A common scenario is to find a money partner and split 50/50. You are giving away 50% of  your profits!  A  hard money loan would cost you a lot less.
New investors often think hard money is too expensive.  It is not the cost of the money that matters, it is how much money it will make you that counts.
New  Rules for Hard Money
The tightening of credit markets has affected hard money loans too. Today a hard money lender is likely to look at your credit. They may also  expect you to have some experience in renovating properties, and have some "skin in the game."  In other words they won't fund the entire deal.
In the high flying days of the hot mid 2000s market, hard money lenders would fund the entire deal. Today you will have to come to the closing table with some money to put down.  In addition to money to put down as part of the price you will also need funds for closing costs.  You will still need additional funds to start the renovations.  As said above, renovation funds are on a draw schedule.  This means you pay for the first stage of the repairs and when they are completed you get reimbursed. You then use those funds to complete the next stage.
For a list of hard money lenders both local and national see this Hard Money Lender List
Happy investing,
Ned